ASCVTS academy lunch 2013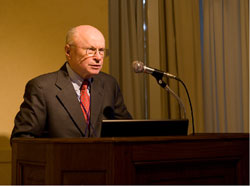 As a professional society for cardiovascular and thoracic surgery in Asia, ASCVTS will launch a professional development course as a post graduate educational course in order to develop fantastic leaders who will lead the Asian cardiovascular and thoracic surgery in the next era.
AATS and EACTS have already started this type of educational course of a few days periodically.
The first ASCVTS Academy Lunch as a Kick-off meeting for the Leadership and Management Course in ASCVTS was held on April 7 (Sun) 2013 as the final event of the ASCVTS annual meeting 2014 in Kobe, Japan. 40 young surgeons and 20 faculty members of the ASCVTS joined together for a sit-down.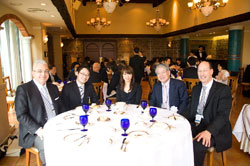 Following the opening remarks by Prof. Shinichi Takamoto who is the president of the ASCVTS annual meeting 2014, Dr. Fred A. Crawford, Jr. (Chair of Board Directors, AATS Leadership Academy) gave an excellent lecture to encourage young cardiothoracic and vascular surgeons to assume leadership in order to set up high quality centers to help patients and contribute to the whole of society.
Dr. Huat-Seong Saw (Cardiothoracic Surgery, Mount Elizabeth Medical Centre) gave a brief introduction that explained the aims of the ASCVTS academy and how the ASCVTS is going to move towards helping young surgeons in terms of education, team making and grooming of new leaders.
During the lunch, the young participants enjoyed a precious and exciting talk with esteemed and great surgeons who are faculty members of ASCVTS. At the end of the lunch, Prof. Sertaç Çiçek who is the congress president of the ASCVTS 2014 gave the welcoming remarks for the upcoming ASCVTS 2014 in Istanbul, Turkey.
At this initial "ASCVTS Academy Lunch", attendees had the opportunity to network with renowned cardiothoracic surgeons. The nurturing of real leaders in Asia is essential to the development of Asian cardiovascular and thoracic surgery. The goal of this academy lunch is to gather together present leaders and selected candidates of new leaders in the next generation from all over Asia and the whole world and to share the agenda for launching the 'ASCVTS Academy'.
To develop strong leadership and unified cooperation in the Asian area, we must gather promising new leaders from all Asian countries. For this reason, the ASCVTS is seeking new leaders that will join the Academy Lunch at the ASCVTS annual meeting 2014 in Istanbul, Turkey, from all Asian countries or the entire world.